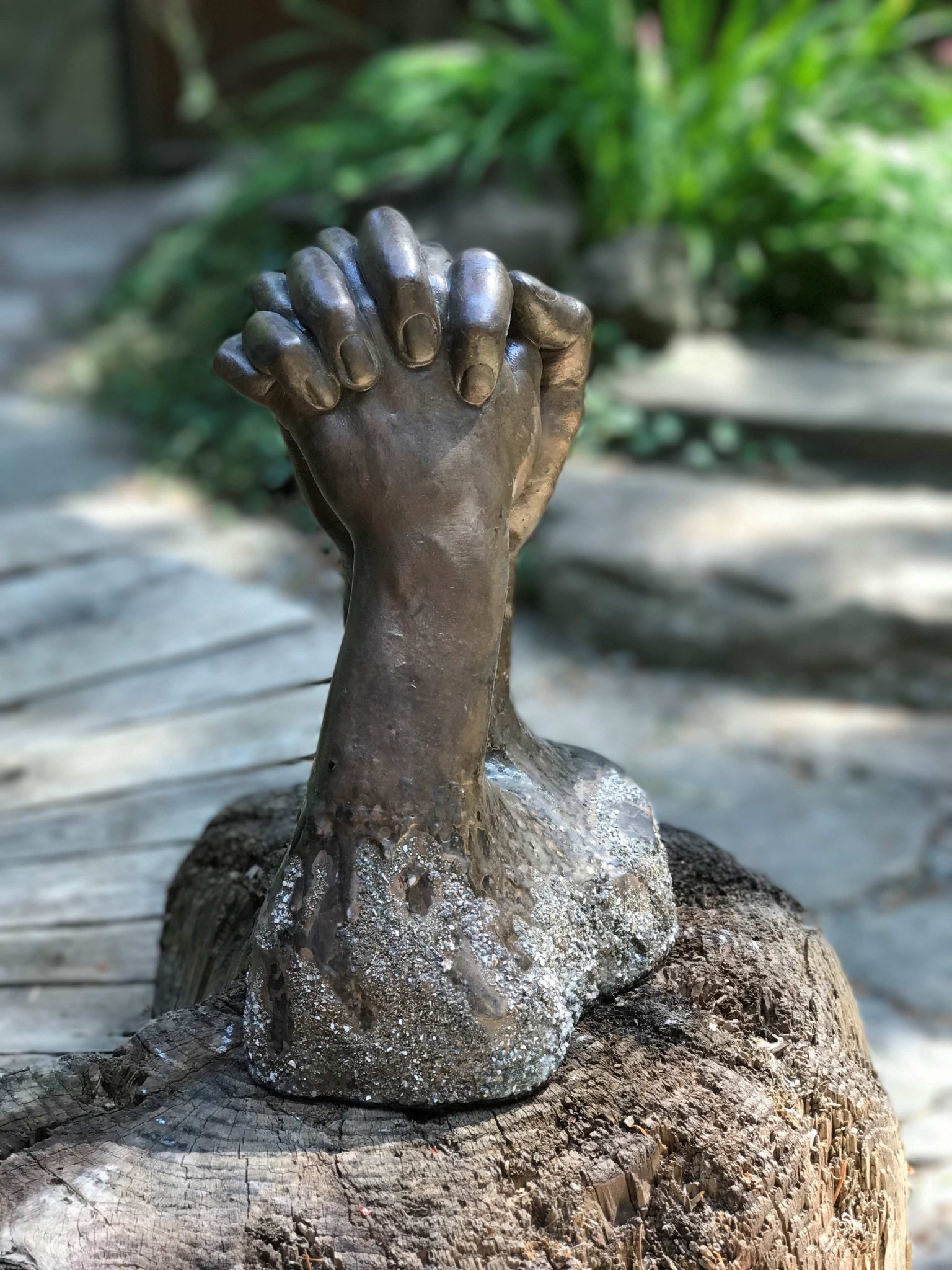 Record the model with exceptional accuracy and can be cast in various mediums. They allow you to be astounded your child was ever so small.  They give the comfort of being able to touch the contours of a loved one's hand years after they have passed or just to remember your body as it is today.
A consultation to discuss what the client would like, the available options and a look at the gallery of images for lifecasting ideas.
The lifecasting component is actually quite short and often only takes from 30—40 minutes. It depends on what type of cast and the prep required.  It can get messy so old clothing is recommended. The product used is natural, safe and is the same type that dentists use for dental impressions. Once the product turns into a rubber like consistency (a few minutes) the mold is built up so it can be removed. For a single hand or couples vertical hands, it is simply sliding the hands from the bucket.
Once the mold is removed, the cast is poured, hand finished, dried for several weeks and then the final finish is applied. When a larger cast or life cast sculpture is commissioned, if local we can also do the installation.
Prices are for plain white casts.
Finishes, base, and artistic elements are extra 
  Baby Hand or Foot            $125
  Child Hand                            $150
  Single Adult Hand             $175
  Pair (Cast Vertical)          $300
  Pair (Cast Horizontal)     $325
  Adult & Baby Hand           $250
  Family Hands (3)               $375
  Extra Family hands           $  50
  Torso                                       $600
We are happy to discuss the options for a commission and understand that it is a personal and private experience.
Different finishes such as Acrylic paint and Cold Cast Bronze can be applied to the Hydrostone Cast. 
Resin casts can be made of the original Hydrostone cast. When paired with an LED base, they can be lit up. 
Different finishes such as Acrylic paint and Cold Cast Bronze and carved elements can be applied to the  Cast.
Couples, Adults and Torsos
Lifecasts are timeless and stunning in capturing that special moment forever. Celebrate yourself or with a loved one and choose from simple elegance to blurring the elements of life cast and sculpture. For more inspiration, see the Life Cast Sculptures page.